Bamboo Steam: From Kitchenware to Cultural Icon
Bamboo steamers have been in use in East Asian kitchens for the past 2,000 years, and for good reasons.
Written by Lok Hang Fung
Published on 30/08/2021
Steaming (placing food over boiling water and cooking the food with steam) is one of the most well-celebrated and beloved cooking methods all around East Asia. Steamed food is healthy, less greasy, retains more nutrients, moistures, flavours, texture, shapes and even colours. Steaming can be used to cook a huge array of dishes, ranging from buns (包子) or mantou (饅頭) to dim sum (點心, an umbrella term for a range of small Cantonese dishes); from Japanese Chawanmushi (茶碗蒸し) to Korean steamed rice cakes (떡). Steamed food makes up an important part of East Asian culinary culture.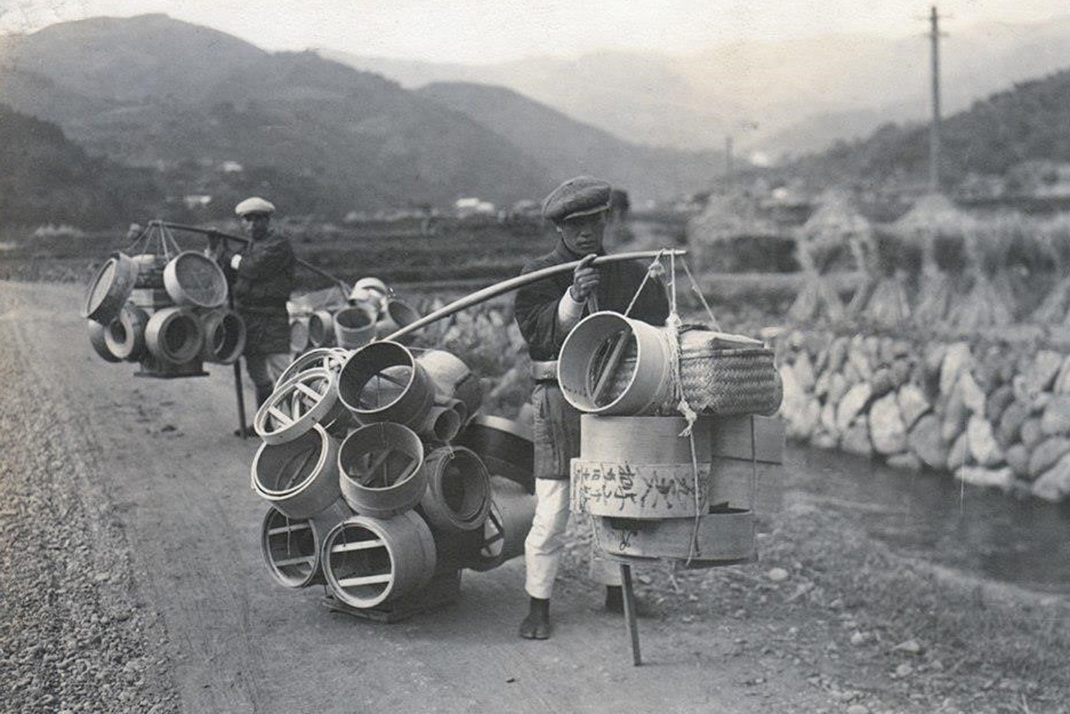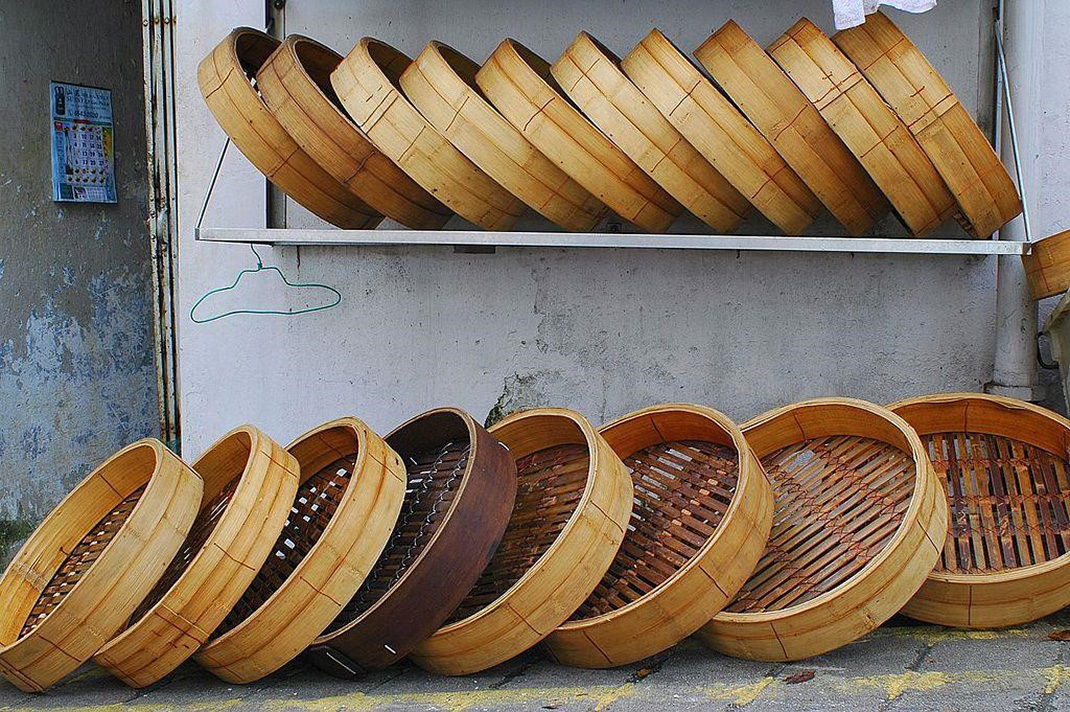 There are many different ways and cookware for steaming food. The most household way is to put a steaming rack or basket (蒸隔) in a wok or a pot, place food on top of the basket, fill the wok/pot with water, and fire on. More advanced are electric steamers and steam ovens. But there is one equipment that has thousands of years of history, is the symbol of a whole food culture, and combines craftsmanship and practicality. It is the bamboo steamer (蒸籠).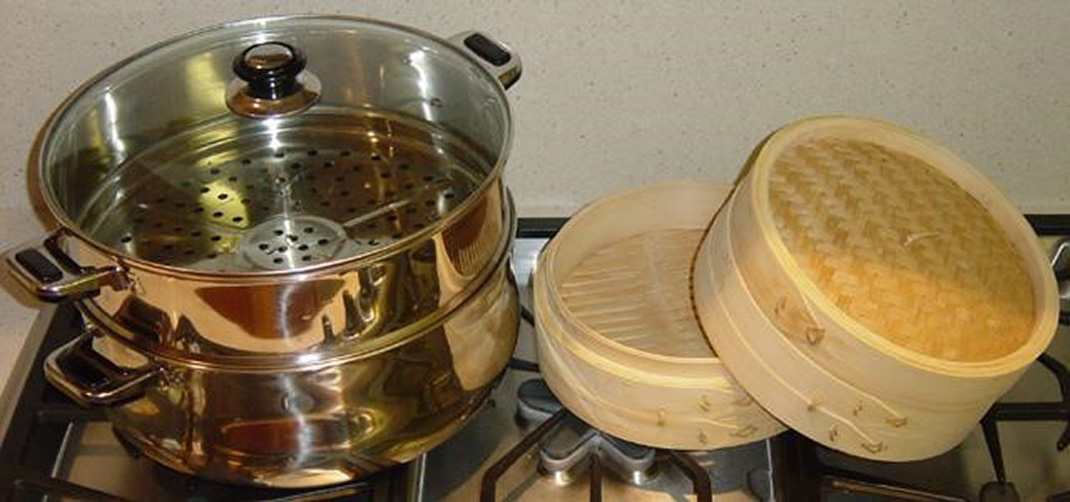 Bamboo steamers are round-shaped baskets made of bamboo strips for steaming as well as serving food, like dim sums and buns. The making of bamboo steamers is a highly complicated and skill-intensive process (you can easily chop your fingers off while trying to remove skin from bamboo strips, for example). The first step is to trim bamboo into the right sizes – cut bamboo poles into desirable sizes (開竹), then carefully peel off bamboo skin and smoothen up the surface of bamboo strips with a knife (carefully, because both the knife and the removed bamboo skin are extremely sharp. If you think of wearing gloves to keep your fingers intact, this is not what the masters do because it prevents them from feeling the thickness and the hardness of the bamboo). Second, rub the cut bamboo strips against a wooden handle to soften them. Next, bend the bamboo strip into a ring to form the base of the steamer, secure the bamboo ring with metal wires or rattan, and use thinner and narrower bamboo strips to form one to two support rings (內拱) which will reinforce the structure of the steamer. Then build an inner ring (內膽) that is slightly smaller than the outer base. The inner ring serves as an insulation layer that traps air and heat. Next, create the steamer floor by fitting bamboo crosspieces (主橫) and thinner pieces of bamboo to hold the crosspieces in place. The thicker crosspieces are meant to bear the weight of the food while the thinner pieces would let steam go through. Then, secure the floor by binding all bottom pieces together with rattan. Further reinforce the structure by inserting bamboo nails (竹釘) around the steamer.
Finally, make the steamer cover by weaving strips of bamboo skin together. Trim and then slide the weaved bamboo into an outer bamboo ring to finish up the steamer cover.[1] The steamer cover arches upward, which lets condensation flow down and drain away through the gaps between the support rings.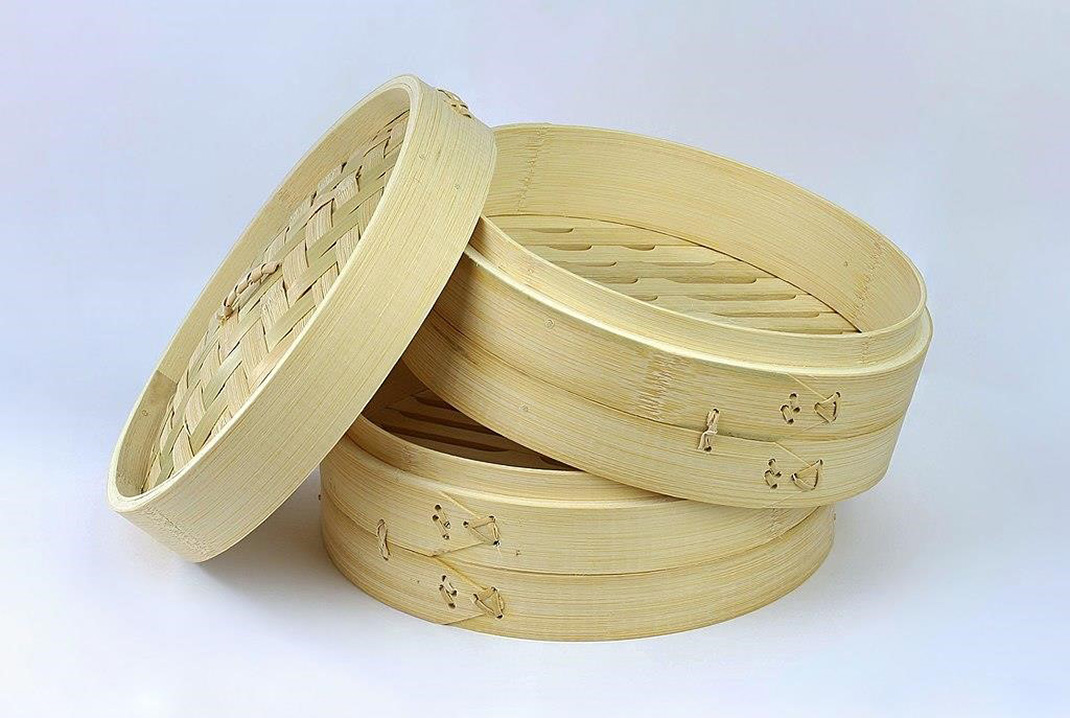 A seasoned maker can finish all the above steps within one hour, regardless of the size of the steamer (a standard dim sum steamer can be made in 15 to 20 minutes). As shown by the meticulous design and making of steamers described above, everything is done the way it is for a reason, including why bamboo is used. Bamboo has been a perfect material for crafting furniture and household items like sleeping mats and bamboo baskets because it is durable and pliable at the same time and easily procured (bamboo is the fastest growing plant on Earth). In the case of steamer, bamboo is able to absorb moisture and prevent condensation from dripping onto the food inside the steamer, while allowing a sufficient amount of steam to go through. Bamboo is even antibacterial – what more from a steamer can you ask for?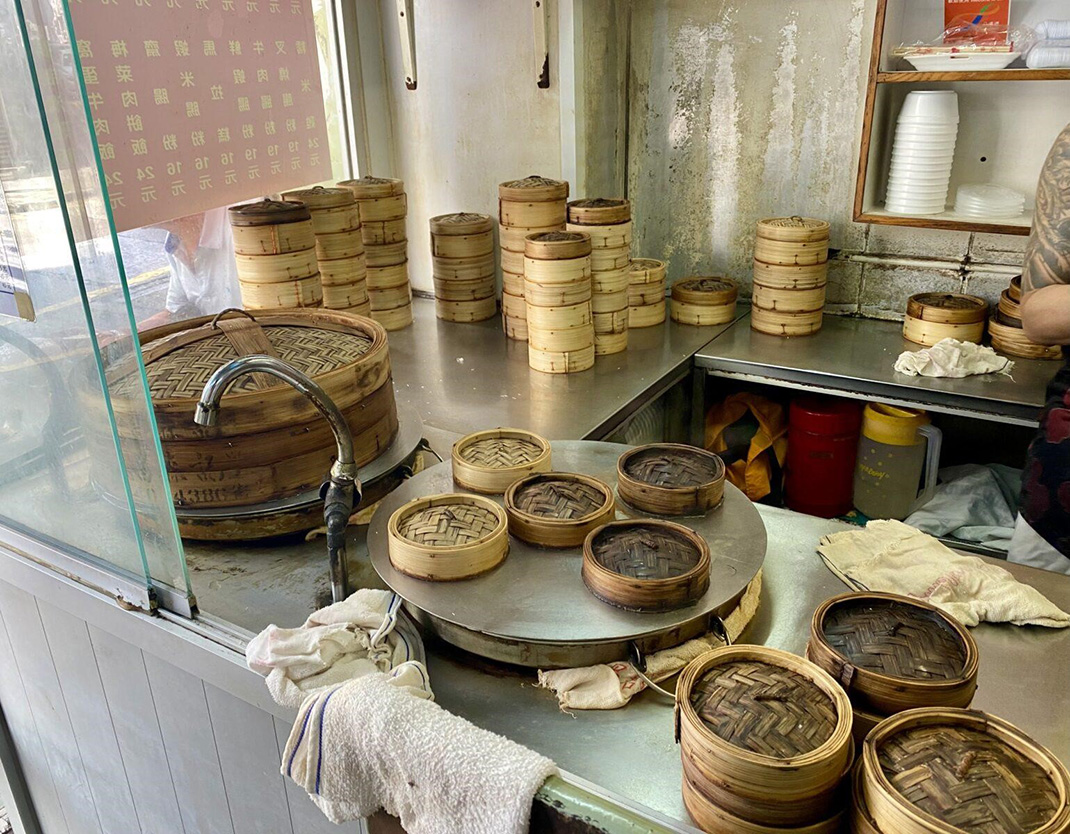 There is an interesting tale about the first usage of bamboo steamer: it was in the early Han Dynasty (202 BC-195 BC). To prevent the location of his army being exposed by cooking fumes, General Han Xin (韓信) ordered to make cookware with bamboo, and to cook with steam. This is allegedly how bamboo steamer was invented, but no one can confirm. What we know for sure is that cookware for steaming emerged as early as the Neolithic period.[2] They were at that time made of clay (陶), and were called yan (甗). By the Han Dynasty, cookwares somewhat like the bamboo steamer we use today were already in place, as shown in murals in the Dahuting Han Tombs for example.[3]
For the past 2,000 years, bamboo steamers have been used to make all kinds of Chinese delicacies, most notably dim sums, one of the two major components of the Cantonese yum cha culture (飲茶; lit. drink tea) along with tea drinking. The word dim sum 點心 first appeared in the Tang Dynasty, and was first used as a verb meaning to grab a bite.[4] The term later evolved into a noun referring to breakfast, and later on snacks. In Cantonese tea houses (茶樓/ 茶室), dim sums including the most basic buns (savoury and sweet), Hao Gow (shrimp dumplings; 蝦餃) and Siumaai (燒賣) are steamed and served in bamboo steamers. If we take a closer look into the history of bamboo steamer making in Hong Kong, a larger historical picture about the city and its culinary culture would be unveiled. Take Tuck Chong Sum Kee Bamboo Steamer Company (德昌森記), famous bamboo steamer manufacturer operated by the Lam family in Hong Kong as an example: the company first started business in the late Qing period in the suburb of Guangzhou. Later, the Lam family moved to the Guangzhou city as business grew, thanks to the booming catering industry. Business grew steadily until the Lams moved south to Hong Kong in the 1950s after the Chinese Communist Party took power. The family settled down in Des Voeux Road West near Sheung Wan and Central where many tea houses, including the renowned Luk Yu Tea House (陸羽茶室) and Lin Heung Tea House (蓮香樓) clustered. As Hong Kong grew from a small entrepot to an industrial centre after the Second World War, Tuck Chong Sum Kee was also busy satisfying the increasing demand for bamboo steamers in more and more tea houses and restaurants. Then in the 1970s, Hong Kong was already one of the Four Asian Tigers. Hong Kong people found easier ways to earn bigger money than making bamboo steamers, which led the company to lack manpower. They then moved manufacturing to mainland China. Workers in mainland China, however, are nothing close to artisans like the Lams. Production of bamboo steamers is now highly specialised as it is inefficient to invest years of time to train a steamer maker who can make a steamer from scratch. Workers are only trained to perform one to two steps among the entire procedure, which entails that fewer and fewer are actually capable of producing one complete bamboo steamer just with some poles of bamboo. From the story of Tuck Chong Sum Kee, we can take a peek at the history of Hong Kong's population change, food culture, and economic development.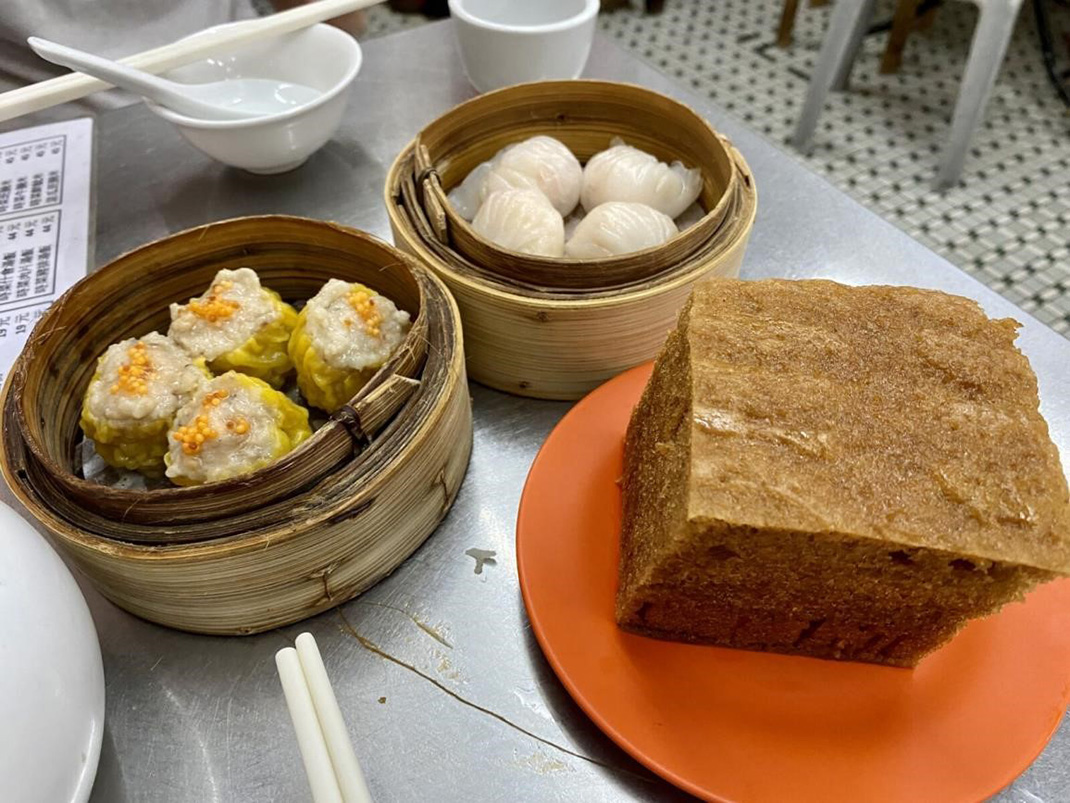 Although bamboo steamers are also used extensively in other parts of China and Japan (in Japanese せいろ), the centrality of bamboo steamers in the dim sum culture is incomparable.  Perhaps partly because of how good dim sums are and partly because the "one cup accompanied by two pieces" (一盅兩件) lifestyle fits perfectly the orientalist imagination, bamboo steamers have become a Cantonese cultural icon and a kind of souvenir. Tuck Chong Sum Kee produces pocket-size bamboo steamers that can go into suitcases easily. Shanghai Tang (上海灘), a Hong Kong luxury fashion and homeware brand, is known for its creative rendition of the bamboo steamer craft. The fashion house produced a watch with dim sums as hour markers and a pattern of weaved bamboo as the face. The watch comes not in a watch case, but a bamboo steamer. Another bamboo steamer-inspired piece is an all-metal, dazzling silver container in the shape of a steamer. The RMB880 (as of 2007) silverware cannot steam, but is perfect for conspicuous consumption, and reminding us how precious the craft of bamboo steamer is despite how humble they might seem.
Footnotes
Zhang Haoxian 張浩賢, Jiangxin shouzuo 匠心手作 [Ingenuity and craftsmanship] (Hong Kong: UP Publications Limited, 2010), 40-41.
For examples of Chinese steamers in the Neolithic period, go to http://www.zjmuseum.com.cn/zjbwg/zjbwg/zs/jpww/tcq/2016/10/27/0b609a9a57fc12f0015803d 68dee055a.html and https://www.eltxdmuseum.com/zhenpin/c/48/242.html.
Fan Changxi 范常喜, "Luoyang Xizhucun Cao Wei mu shipai 'Roudou'
'Bingxianlong' kao" 洛陽西朱村曹魏墓石牌"肉兜""餅咸籠"考 [A Research
on the "Roudou(肉兜)" and "Bingxianlong(饼咸笼)" in the Tomb of Cao Wei in Xizhu Village, Luoyang], Zhongguo nongshi 中國農史 40, no. 2 (2021):11-14.
Chen Biyao 陳壁耀, Hanzi li de Zhongguo (er) ciyu pian 漢字裏的中國(二)詞語篇 [China in the lens of Chinese characters (Two) words/terms] (Hong Kong: Chung Hwa Book Co., 2020), 65-67.