Food Delivery Platform: Service Quality, Algorithm, Infrastructure, and People
Behind the algorithm and the food delivery platform service is the huge supply of rural migrant workers in China.
Written by Jack Linzhou Xing
Published on 27/12/2020
Have you ever tried the "high-quality service" of online food delivering tools in mainland China? What you need is to turn on your smartphone, open the app of either "Meituan (美团)" or "Eleme (饿了么)," select the restaurant and food you like, pay via e-payment tools, and wait. This can take less than 30 seconds, and even shorter if you use the apps frequently, because the algorithm will recommend your favorite choice. Somehow magically, a rider knocks on your door exactly at the agreed time and gets you the food. In the whole process, you obtain your food by several clicks on the phone and walking from your table to your door – it is as the food is automatically fed into your mouth.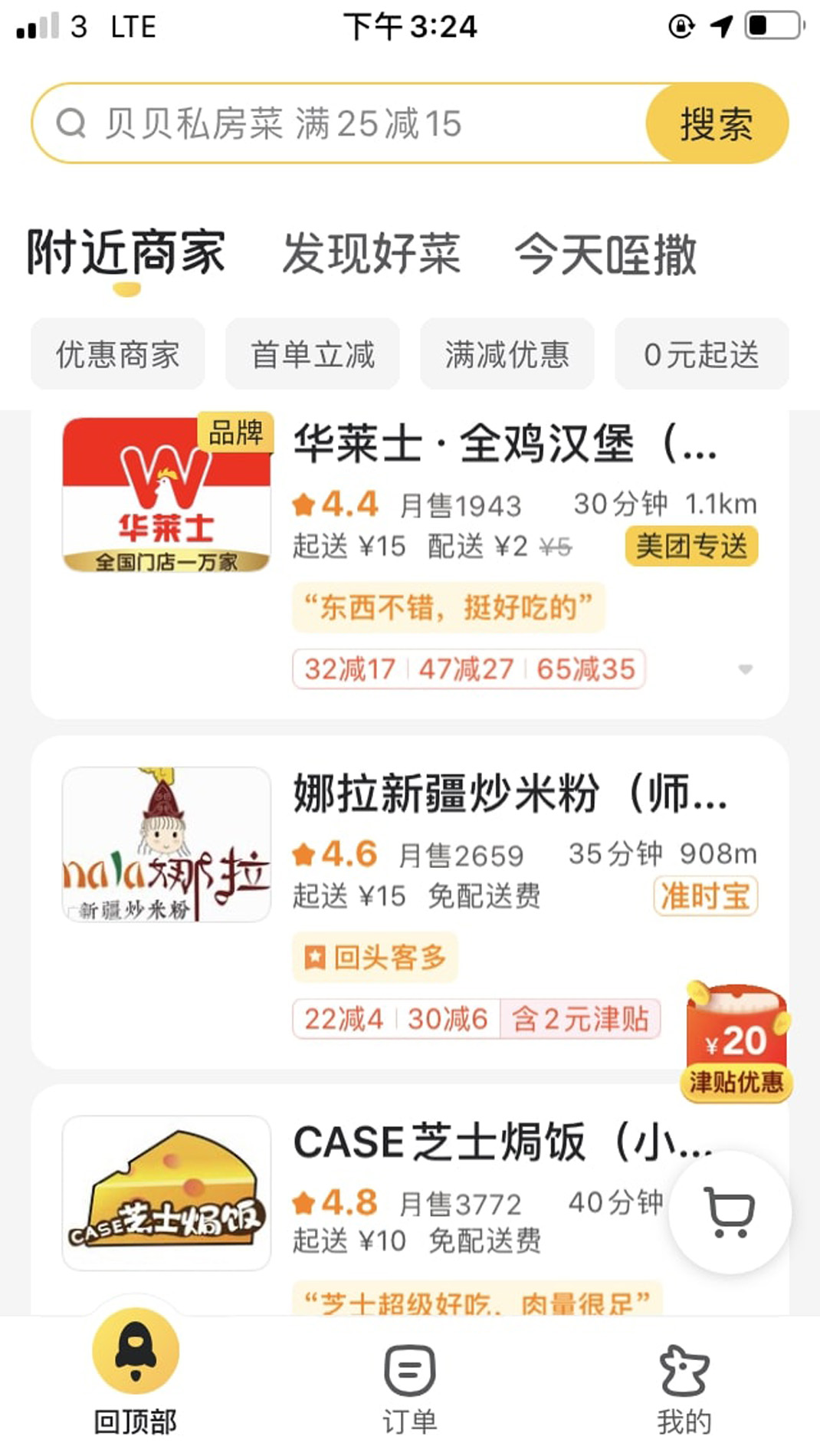 It is obvious that such a kind of high-quality service can be attributed to the development of the algorithm. By presenting available restaurants on the phone screen, the algorithm recommends you the possible choices; after you finished choosing and paying, it calculates the distance between your address, the restaurant, and available riders, and assign the order to a proper rider; then, the algorithm sets a time limit for the rider, who will apply his or her all-out effort to deliver the food to your door on time. Upon finishing the order, the algorithm also records your preference for future recommendations, and ask for your evaluation on riders as a reference to the future order distribution.
Nevertheless, the algorithm is not magic. It cannot "teleport" food. More specifically, if you happen to use food delivery platforms in places like the USA, the service is generally of much lower quality. Therefore, what else is behind the supposedly universal algorithm? What is special to urban China?
Infrastructure
The ultimate effect of the algorithm in food delivery apps depends on various kinds of infrastructure.
The most evident infrastructure is information and communication technologies. First, to use the apps, one needs a smartphone. In China, the strong smartphone manufacturing sector provides low-income groups with the opportunity to network.[1] The total shipped number of smartphones reached 560 million as early as 2016.[2] In the Q4 of 2017, 57.1% of smartphones cost less than RMB 2,000 (USD 297).[3]
Second, the customers, restaurants, and riders need access to mobile Internet. In 2017, after a decade of continuous efforts to develop 3G and 4G (TD-SCDMA), China had a 4G user penetration rate that ranked among the top five in the world.[4]
Third, you are not allowed to pay or receive money by cash – without mobile epayment tools such as Alipay or WeChat Pay, you can neither use the service nor become a rider. China's e-payment market went through a significant expansion between 2014 and 2017. In 2017, the nationwide trade volume via e-payment reached RMB 108.1 trillion (USD 16.06 trillion) (Wang 2018),[5] making it the country that is most dependent upon e-payment tools in the world.
While information infrastructure makes it possible for you to use the app, traffic infrastructure helps you really get the food – most importantly – on time. For riders, punctuality is the key, but it is definitely not easy in Chinese cities. According to Amap's analytical report about the top 50 cities in China ranked by population,[6] the average real traffic time for a citizen to travel from one point to another at peak hours is nearly twice the time for him or her to travel under free-flow situations. How can riders deal with this?
Via electronic motorcycle, combined with retrograde, running red lights, and all other ways to break the traffic law. Ever since major Chinese cities banned petro-fueled motorcycle, electronic motorcycle, which combines high speed, low cost, relatively high level of safety, and flexibility, has become the most popular small vehicle among urban logistic workers. Riding an electronic motorcycle, a rider can flexibly turn around on the street, go on the sidewalk during a traffic jam, or quickly run red lights, so as to race against time and meet the "high service quality." The tension between the strict requirement of punctuality and terrible traffic situation naturally brings security costs. During the first half of the year 2019, there happened 325 traffic accidents on food delivery riders in the single city of Shanghai, which killed five people.
People
A natural question is, why is punctuality so important – and so deadly – in China's food delivery service? The reason lies in riders and customers, who are connected and manipulated by the algorithm.
The majority of riders are rural migrants who come to the city for better jobs and higher income. Given factors represented by the household registration system which differentiates the social security standards of urban and rural residents, rural migrants suffer from disadvantageous social status and vulnerable legal status. This makes them more open to jobs with long hours, poor or dangerous working conditions, and uncertain employment relations. This gives food delivery platforms the chance to recruit them without paying a high salary, buying employment insurance, or taking legal responsibilities as employers. You might be surprised by the cheap delivery fee – usually less than 10 RMB per order. You might be even more surprised to realize that only part of such delivery fee goes to riders, with the rest collected by platforms. According to Zheng Guanghuai's research,[7] the average monthly income for a rider working for 8~11 hours in Wuhan, a typical big city in China, is around RMB 5,882, much less than the average monthly income in Wuhan which is RMB 8,170. Meanwhile, like what Uber famously did, food delivery platforms portray themselves as the middleman between customers and riders, indicating that they are not responsible for taking employment benefits and insurances to them.
Nevertheless, one should note that compared to other typical jobs that rural migrants do in cities, such as construction work, such income is already satisfactory and with equally terrible protection of labor rights. This makes the rider job popular and highly competitive. The competition became much fiercer under the pandemic of COVID-19, since lots of migrant workers lost their jobs, but food delivery, given the need for quarantine and social distancing, becomes a somehow still profitable job. Under the fierce competition backed up by more than 280 million supply of rural migrant workers nationwide,[8] platforms can easily recruit cheap labor without paying for employment benefits or insurances, and freely manipulate the salary of riders. In comparison, existing riders need to compete with each other in speed and service quality, so as to finish more order and get higher priority in order distribution.
In parallel, from the demand side, the need for such service quality, meaning "getting the food on time and nearly fed into one's mouth," is rooted in the intense work pressure and long work time of typical customers of food delivery service, i.e., whitecollar workers, who have very limited time to have meals. Suffering from the lack of labor rights protection and culture of overtime work, white-collar workers mock themselves by the saying "996, ICU," which means working from 9 am to 9 pm, 6 days a week, and ending up in the intensive care unit. In this sense, in both the supply and demand side, riders and customers both suffer from tough working conditions that reinforce each other via the channel of food delivery.
However, we may need to still question to what extent such a demand is "real," and what role the algorithm plays in constructing such a demand. Again, if you have experience using food delivery platforms in the USA, you may understand that punctuality and "fed-in-your-mouth" is usually not expected. Even in East Asian cities such as Hong Kong in which white-collar workers emphasize efficiency a lot, people sometimes need to go outside the gate of the office building to pick up their food. Moreover, during the COVID-19 pandemic, most office buildings do not allow riders to come in, so that customers need to pick up the food at the gate of the buildings. All these practices, which fail to fulfill the abovementioned demand, turn out to be acceptable.
This comparison seems to suggest that in a sense, the algorithm is used to exaggerate the demand caused by the working pressure of customers, but then fulfill such an exaggerated demand by imposing working pressure on riders. Via the algorithm, platforms create a service model that requires the meal to be delivered 100% punctual to customers' doors. Correspondingly, customers are made so used to such a service standard that they believe that 100% punctuality and "fed-in-yourmouth" is what they truly need – actually it is not.
How can the algorithm alone construct and fulfill such a demand? No way. Behind the algorithm and the food delivery platform service is the huge supply of rural migrant workers in China, whose life is so difficult that they compete fiercely to become riders with long working hours, low income, no insurance, uncertain employment relationship, and high level of everyday danger.
Footnotes
Qiu, Jack Linchuan. 2016. "Social media on the picket line." Media, Culture & Society 38, no. 4: 619-633; Wallis, Cara. 2015. Technomobility in China: Young Migrant Women and Mobile Phones. New York: NYU Press.
CAICT. 2018. "2017 nian guonei shouji shichang yunxing qingkuang ji fazhan qushi fenxi (A 2017 analysis of the situation and development of the domestic smartphone market)." Accessed Jan 17, 2019. http://www.caict.ac.cn/kxyj/qwfb/qwsj/201804/P020180302390900546187.pdf.
Jiguang Big Data. 2018. "2017 nian Q4 zhineng shouji hangye yanjiu baogao (Research report on the smartphone industry, Q4, 2017)." Accessed Jan 17, 2019. http://co-image.qichacha.com/upload/chacha/att/20180208/1518079822207295.pdf.
Internet Society of China. 2018. "2018 Zhongguo hulianwang fazhan baogao. (Report on the development of Internet in China, 2018)." Accessed Jan 17, 2019. http://www.199it.com/archives/748203.html.
Wang, Pengbo. 2018. "2017 nian di 4 jidu Zhongguo disanfang zhifu yidong zhifu shichang jiaoyi guimo 377,275 yi yuan (The trade volume of third-party mobile e-payment of China reached RMB 37.7275 trillion in 2017)." Accessed Jan 17, 2019. https://www.analysys.cn/article/analysis/detail/1001257.
Amap. 2020. "2019 Zhongguo zhuyao chengshi jiaotong fenxi baogao (Analytical report on traffic situations of major Chinese cities, 2019)." Accessed Oct 14, 2020. http://www.199it.com/archives/865522.html.
Zheng, Guanghuai. 2020. "Wuhan Shi kuaidi yuan waimai yuan qunti diaocha: pingtai gongren yu 'xiazai laodong' (An investigation of couriers and food delivery workers in Wuhan City: Platform workers and 'downloaded work')." Accessed Oct. 14, 2020. https://tech.ifeng.com/c/7vGOnCfvgqu.
National Statistics Bureau. 2019. "2018 nian nongmingong jiance diaocha baogao (Investigative report on rural migrant workers in China, 2018)." Accessed Oct. 14, 2020.